Before, During, After: Art Shaping Resilience
Angie Newman Johnson Gallery, Episcopal High School
February 14, 2022 – March 22, 2022
Joan Dreyer was one of nine artists in Before, During, After at the Angie Newman Gallery at Episcopal High School in Alexandria, Virginia.
The exhibit addressed how artists build resilience through the act of creating art and how that process is relevant to the current times.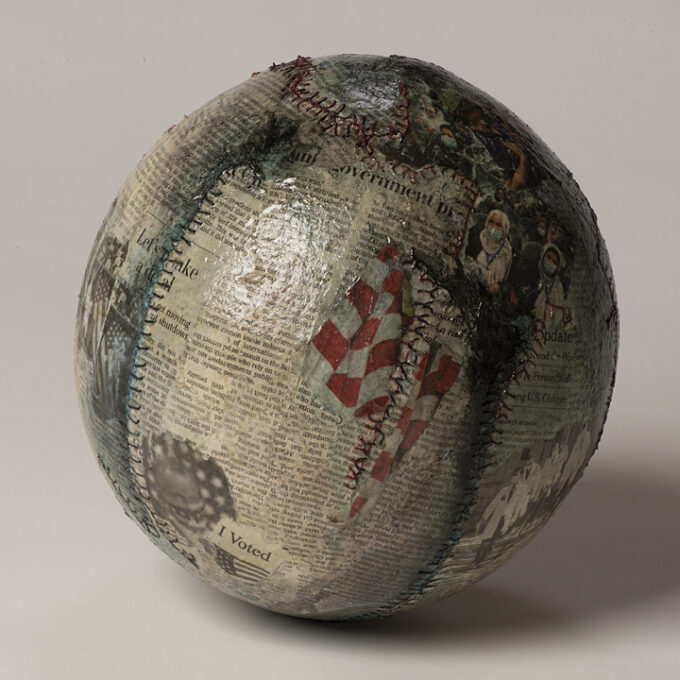 2021 Mark Jenkins, "Review: In the Galleries",
The Washington Post, January 29, Arts & Style
Joan Dreyer's "World Map," from 2008, is a fabric chart flanked by tags from upscale clothing items made around the world, emblems of internationalization from a less contentious time. It's next to a more urgent world vision: an egg-shaped papier-mache globe covered in newsy images, including photos of masked people."
This fascinating fiber art exhibition presents contemporary textiles and mixed-media works created by artists from New Image, an all-female group of active studio artists from Virginia, Maryland, and Washington, DC, who work primarily with cloth, paper, and alternative materials. Inspired by the natural landscape of the Shenandoah Valley and the materials used by New Image artists, Rock, Paper, Scissors presents a wide range of art, from standard quilts to three-dimensional works.